The holy char dham yatra of India requires the pilgrims to cover the 4 holy abodes of gods and goddesses in an effort to achieve their moksha or salvation which has been described as the karmic and unending cycle of birth and rebirth. it is one of the most widely acclaimed and most awaited pilgrimages in India which is undertaken by huge throng of devotees from not only India but also from all over the world. it is the dream of every Hindu to go on this sacred yatra at least once in their lifetime. Apart from the bigger char dham yatra pilgrimage circuit that takes you through the holy sites of Badrinath (north); Rameshwaram (south); Dwarkadheesh (west) and Jagannath temple (east) another circuit of chota char dham yatra is equally significant which takes you to Badrinath, Kedarnath, Gangotri and Yamunotri. Going on this journey will mean for you to brave harsh weather and a very difficult terrain with a lot of pre planning along with a certain level of fitness. However with changing times new ways of commuting to the dham temples have come up and one of the most comfortable and easy way of travelling is via helicopter.
Char Dham Yatra by Helicopter
Opting for going on a char dham yatra via a helicopter journey is probably one of the best decisions you will be making. It is a quick, simple and a very comfortable way of travelling without any hassles and tensions. Since a lot of people go for the holy pilgrimage from abroad and are running short on time then a helicopter journey is the best choice that you could ever make. Helicopter ride to the sacred temples can also be availed especially by senior citizens and physically challenged individuals. All these innovative modes of transportation has been made so that the most number of people are able to offer their prayer and get blessings from the lord and fulfil their lifelong wishes. Although the ticket pricing may be a little steep but it definitely will be worth every penny. One can visit the place in just a duration of 2 days.
Starting Point – Sahastradhara helipad, Dehradun
Starting Time – 7 am (it is advised for the traveller to reach the helipad an hour prior to the scheduled time of departure in order to complete all the formalities)
Chota Char Dham Yatra of Uttarakhand:
Devbhoomi Uttarakhand is home to the holy pilgrimage of chota char dham yatra circuit consisting of 4 sacred temples of Kedarnath (lord shiva), Badrinath (lord Vishnu), Gangotri (goddess ganga) and Yamunotri (goddess Yamuna). All these temples hold immense importance in the lives of devout Hindus who make it a point to visit these ancient holy shrines at least once in their lifetime. The journey can be undertaken from Delhi and this route can be followed: Delhi – Haridwar- Barkot – Yamunotri (starting point of char dham yatra) – Uttarkashi – Gangotri – Guptkashi – Kedarnath – Badrinath – Rishikesh – Delhi.
There is no direct motorable road heading for the temple. It can only be reached by trekking a very difficult and testing terrain for 18 kms that starts from Gaurikund which is the final roadhead for Kedarnath. However with the availability of helicopter services one can easily complete this journey without stressing or tiring yourself out. There are several helipads located around like Phata, Sersi, Augustmuni etc. the travellers will be then transferred from their helicopter here to a government approved helicopter service (government rules) which will drop you off at Kedarnath helipad, located in just a distance of 500 metres from the temple. Various touring companies offer this service which will allow you to complete the journey in just a day. in addition to this you will also receive a VIP darshan pass that will allow you to skip all the lines and have a quick darshan.
Timings:
The helicopter yatra commences from Sahastradhara helipad in Dehradun at 7 am in the morning whereas the final helicopter back to the helipad is timed at 11:10 am in the morning. In case you decide on staying the night in Kedarnath then you can choose to get this flight the next day to head back. if you are returning the same day then also you will have almost 1.5 hours to complete with all your darshan rituals.
Passenger Guidelines:
Only luggage weighing 5 kg per person will be allowed on the flight. You must only pack all your essential things that you will definitely need and nothing extra since if the weight of the bag is more than the said amount then the company reserves the right to cancel your booking as well. This is a very strict rue since it ensures safety.
Remember to carry all your medial necessities and a first aid kit containing the medications you may need. You will have to carry medicines for fighting fever, diarrhoea, motion sickness, vertigo etc. also carry band aids, Dettol, pain medication, Moov Spray etc.
The temples in the circuit are on high altitude and remain cold throughout the year. It especially gets quite chilly at night so make sure you have some good quality of woollen clothing and winter wear that will deal with the high altitude chill weather. Being warm is priority in order to avoid any adverse medical health conditions.
Remember to carry a valid ID photo proof for all the passengers travelling. You can also carry a valid Aadhaar Card or a passport as identification since it is a necessary step. Be sure to keep these important documentations safely in a bag with you at all times.
You must get a medical certificate for your helicopter service provider since being located on high altitude it is vital for them to be medically fit.
Due to any reason involving bad weather conditions, VVIP movements, technical difficulties, delay in air force clearance or any other such snag, your flight may stand a chance of getting postponed or cancelled.
In case you decide on over staying or for some more additional days other than the ones mentioned in your itinerary then the expenses will be borne by the passengers.
Make sure to thoroughly go through all your terms and conditions, cancellation policies and all the guidelines and even clear out all the doubts with the service provider before you finalise on a particular package.
A complete 6 days and 5 nights package is recommended for senior citizens since it will allow them to have a peaceful and a proper darshan of all the gods and goddesses. This will also give an ample amount of time for them to get used to the environment and have an enjoyable time.
Generally, the journey starts from 7 am in the morning however it is advised for you to be at the helipad at 6 am in the morning since you will be required to fill out some forms and complete some formalities along with listening to all the guidelines.
Terms and Conditions:
The flight timings are not exact and is subject to change depending on natural and factors beyond human control like unexpected weather change etc.
50% of the total ticket price should be paid in advance while the remaining 50% should be paid at least a week prior to the commencement of the journey.
Food availability depends on the choice of package you make and you must also clarify this with your service provider as well.
The package that you select may not include GST so also make sure to clarify this with your service provider.
Children over the age of 2 years old require a full ticket just like that of an adult.
No special concessions or provisions are made for children, senior citizens and physically challenged. If need be special arrangements can be made for individuals who require it.
Cancellation Policies:
The cancellation policy of every helicopter service provider differs from one another so make sure to clarify about this with your tour manager. Mostly the following rules for cancellation are followed – less than 10 days prior to the date of departure then no refund will be made and if the cancellation is made 30 days prior to the scheduled date of departure then 50% of refund will be made. But remember to clarify about this with your tour operator before the yatra commences.
Chota Char Dham Yatra Temples:
Yamunotri Temple (Uttarkashi, Uttarakhand)

Timings – 6 am to 8 pm
How to Reach – The closest airport for Yamunotri is located in Dehradun i.e. jolly grant airport which is located at a distance of around 200 km while the nearest rail head is located in Dehradun which is 185 km away. Bus services also ply on a regular basis on this wide network of roads heading from Rishikesh to Hanuman Chatti.
Gangotri Temple (Uttarkashi, Uttarakhand)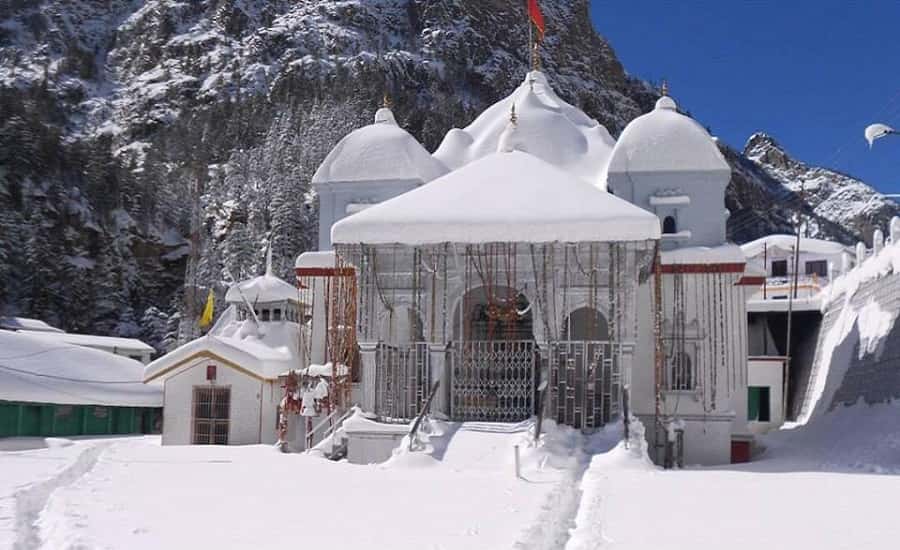 Timings – 6:15 am to 9:30 pm
How to Reach – It is one of the most easily accessible char dham temples since there are roads connecting all the major and minor cities and towns of Uttarakhand. The nearest airport is jolly grant in Dehradun which is around 270 km. road transportation options are available from Rishikesh, Dehradun, Uttarkashi etc making it easily reachable.
Kedarnath Temple (Rudraprayag, Uttarakhand)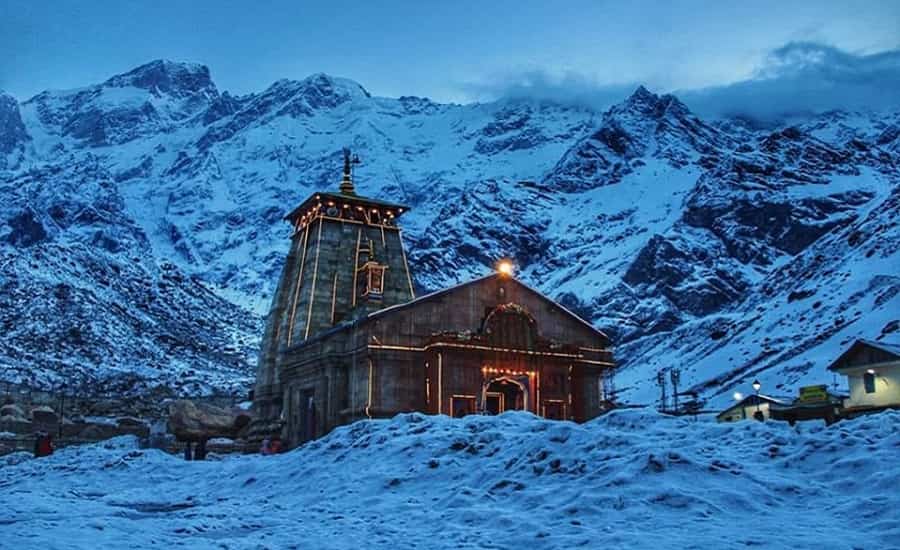 Timings – 4 am to 9 pm
How to Reach – Jolly grant is the closest airport in Dehradun which is 240 kms away and the nearest railway station is located in Rishikesh which is 220 kms away. Gaurikund is the final motorable roadhead for Kedarnath and it also serves to local and private bus and jeep services from Delhi, Rishikesh etc.
Badrinath (Chamoli, Uttarakhand)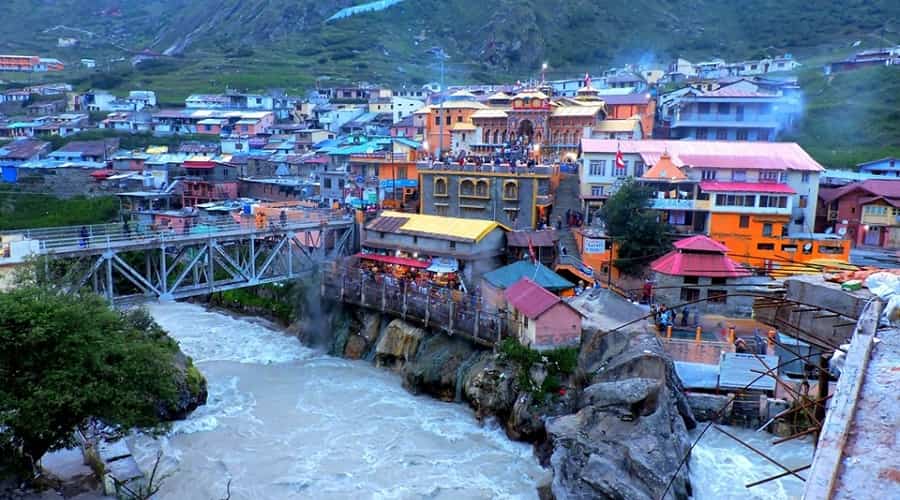 Timings – 4:30 am to 9:30 pm
How to Reach – Jolly grant airport is the nearest airport for Badrinath which is located at a distance of 315 km and the railway station is located in Rishikesh and at a distance of 320 kms. It is another one of the portals that can be reached easily via a road journey through cars and buses also.
A 1 day of do dham yatra package by helicopter will cover 2 out of the 4 holy temples which will be of either the combination of Gangotri – Yamunotri or Kedarnath – Badrinath. You will be provided with all the car services, ground transfers and VIP darshan passes that will allow you to have a hassle-free journey. Here is a general itinerary that the helicopter journey for do dham yatra looks something like this: Dehradun – Kharsali (helipad) – Yamunotri – Kharsali – Harsil (helipad) – Gangotri – return to sahastradhara helipad in Dehradun.
The itinerary for Badrinath and Kedarnath would look something like this: Dehradun – Guptkashi (helipad) – Kedarnath – Badrinath Helipad – Badrinath.
Sample Itinerary:
Day 1: Dehradun to Kharsali by helicopter – Kharsali helipad to Yamunotri temple – overnight stay in Kharsali
Day 2: Kharsali to Harsil helipad – Harsil to Gangotri – overnight stay in Gangotri
Day 3: Harsil to guptkashi by helicopter – guptkashi to Kedarnath helipad near the temple – Kedarnath temple – overnight stay in Guptkashi
Day 4: Guptkashi to Badrinath helipad – Badrinath temple darshan – overnight stay in Badrinath
Day 5: Return Dehradun
Char Dham Yatra Registration:
The online registration for all the pilgrims going on this holy journey has been made mandatory by the government of Uttarakhand. This registration is done via the biometric method which is issued duly to the pilgrims. The online and the offline methods of getting registered is very easy and can be done by anyone or you can even consult your tour provider company regarding this. This process is vital since in this manner the government will be able to keep a track of all the pilgrims and ensure a safe journey throughout in case some unexpected disaster occurs. There are counters available in and around the char dham temples to cater to the needs of all the travellers even if they haven't gotten this done online.