The pilgrimage of Char Dham Yatra which takes place during the summer months and goes on till the beginning of winter is one of the holiest yatras in India and probably the world. Devotees from all over the world flock together to the holy portals of Kedarnath, Badrinath, Gangotri and Yamunotri in the Garhwal Himalayas to make their journey to Moksha or salvation. These places are located in high altitudes which require a lot of preparation and research work prior to the journey in order to ensure a safe and secure journey. With these guiding points you will be able to plan your Char Dham Yatra with ease: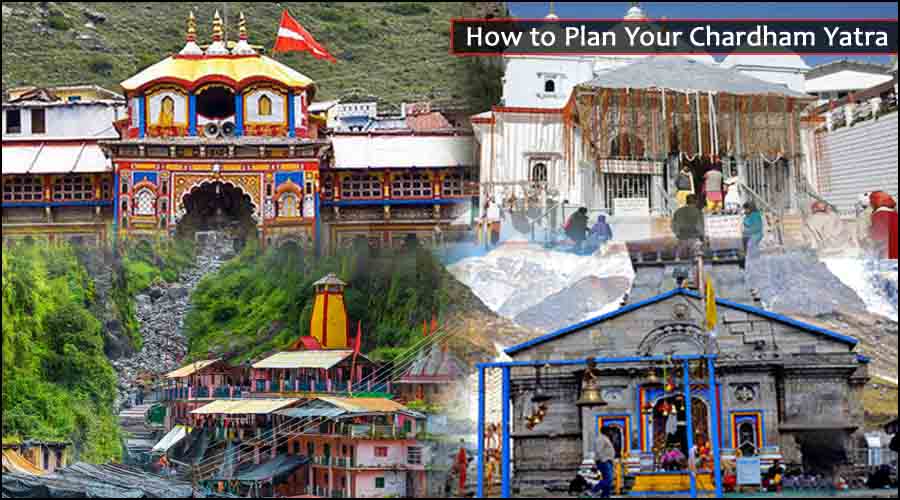 What is Char Dham Yatra?
The Char Dham Yatra of Uttarakhand which is formed by the cluster of 4 important temples of Kedarnath in Rudra prayag; Badrinath in Chamoli; Gangotri and Yamunotri in Uttarkashi. This yatra was established in the 8th century by the great sage, seer and philosopher Adi Shankaracharya who is also credited with the establishment of a number of other shrines and matts in an attempt to revive the spirit and a feeling of oneness among the Indians. A visit to these temples is believed to provide the pilgrims with salvation or moksha which is the freedom from the karmic cycle of birth and rebirth.
About the Char Dham Sites:
Yamunotri – Located on the source of Yamuna River and with the presiding deity being worshipped as goddess Yamuna this Dham is the place from where the char Dham Yatra religiously commences. You can visit the temple between 6 am to 8 pm and also attend the aarti which takes place from 6:30 pm to 7:30 pm. If you like you can even visit some nearby places of tourist attraction here like – Saptarishi Kund, Surya Kund, Divya Shila etc.
Gangotri – The place marks the origin of the holy river of Ganga where goddess Ganga is worshipped as the presiding deity. Lined by the holy and gushing waters of Bhagirathi River this Dham can be visited between 6 am to 2 pm and from 3 pm to 8 pm. Some nearby attractions here include Pandav Gufa, Bhagirathi Shila, Gaumukh trek, submerged Shivling etc.
Kedarnath – This Lord Shiva temple which is believed to have been created by the Pandava brothers and lying next to the holy Mandakini River is one of the holiest jyotirlingas of India. It is relatively a difficult place to reach and requires some planning. You can visit the temple from 4 am to 9 pm. Some tourist attractions here include Bhairon Temple, Gandhi Sarovar etc.
Badrinath – This Vishnu temple located by the holy Alaknanda River is one of the holiest Divya Desams of India and also a part of the all India Char Dham Yatra along with Rameshwaram, Jagannath Puri and Dwarkadheesh in Gujarat. It can be visited from 4:30 am to 1 pm and 4 pm to 10 pm. Some nearby attractions include Mana Village, Vyas Gufa, Surya Kund etc.
What is the Best Season for Char Dham Yatra?
First thing you must know that Char Dham Yatra takes place in the hilly regions and rugged mountainous terrain so the weather should be taken care of before making the journey. The best time for you to go on this yatra is from its opening date in April or early May to the pre monsoon seasons of early July. You must avoid travelling to this place during the monsoon months of late July to early September. This is the time when the place is prone to the threats of landslides and heavy showers flooding the rivers. You can resume your journey if you can bear the Himalayan chill for journey in September to its closing time in November.
Which is the Most Convenient Way of Reaching Char Dham?
By Helicopter – This is the most convenient and easy way of reaching Dhar Dham with days to spare. You will be able to complete the yatra in just 2 days. The journey starts from Sahastradhara helipad in Dehradun and concludes here. At one time the chopper will be able to transfer 5 to 6 people at one time.
By Road – For some people the helicopter option may prove to be a bit expensive so you can choose to opt for a road journey via buses and shared jeeps. These services commence from the railway station in Rishikesh or Haridwar and takes you to all the holy portals in Uttarakhand. The roads are in good condition and allows for safe and secure travel experience which is also very scenic.
Travelling Tips for Char Dham:
You must do some active or physical activity at least a month prior to the beginning of your journey. You can even do some breathing exercises since these temples are located in the high-altitude region where the terrain is rough and the oxygen content is low.
Do carry a good amount of woollen clothing even if you are travelling during the summer season. After sun down the temperature will dip drastically making the weather extremely cold.
Women pilgrims should avoid wearing sarees for their own comfort concerns. The travel will be very gruelling and you will be required to walk a lot which can easily be done in pants or salwar suits. Also make sure to invest in a good pair of walking shoes.
Do not hurry. Remember to carry on the journey in a slow and steady manner the moment you feel out of breathe stop and take some rest before carrying on in a steady pace. Reaching the temple in a healthy condition for Darshan should be your main priority.
To deal with altitude sickness you can carry along medicines and prescribed pills from your doctor. This will definitely come in handy during your journey especially in kedarnath. Also remember to carry along any of the medicines you normally take part from pain killers, medicine for fever, cough, cold etc.
Frequently Asked Questions:
1- Should I book accommodation beforehand or after I reach for Char Dham?
It is important for you to book your accommodation, hotels or ashrams way before hand the starting of the journey since it is attended by people from all over the world and the bookings sell out really quickly. You can also choose to stay at a GMVN at the cheapest rates. If you go there and try to book a hotel then you may not get the room or even the room you get may not be at par and this will cause a huge inconvenience in your journey.
2- How Many Days are required for Yatra?
If you are travelling by road then you will be required to take a journey of around 12 to 15 days and if you plan on rushing your journey through then a minimum of 10 days is required. If you are travelling by flight then only 2 to 4 days is required to explore the temple and even include some nearby sightseeing here.
3- Is a Medical Certificate Required?
A medical certificate should be kept in handy during your journey which you can show when asked to. All the pilgrims are requested to go through thorough medical check ups before the journey to make sure you are in a healthy physical condition in order to complete the journey with ease.
4- Is Char Dham Yatra Completely Safe for Travel Now?
After the devastating kedarnath flood destructed the entire region rapid reconstruction and restoration works by the government here managed to bring about permanent solutions to give the pilgrims a soulful and tension free journey. All the roads are well maintained; strong and well built ensuring longevity. Even the buildings are constructed keeping in mind the conditions here. So it is very safe to travel to Char Dham now.