Known all over the world for being the highest Shiva temple in the world and only accessible after a trekking journey up the hill just below Chandrashila peak. It is a crucial part of the holy panch kedar yatra circuit (kedarnath is also a part of this Yatra) which is said to have been established by the Pandav brothers when they had visited here while looking for Lord Shiva. Situated in the district of Rudraprayag amongst the lush green valley of Mandakini and Alaknanda making it a very serene and peaceful destination, perfect for a tranquil spiritual getaway with your family and loved ones. There are numerous Hindu legends and mythologies related to this place which attracts a huge throng of crowd throughout the year (since it is also popular as a top winter vacation destination).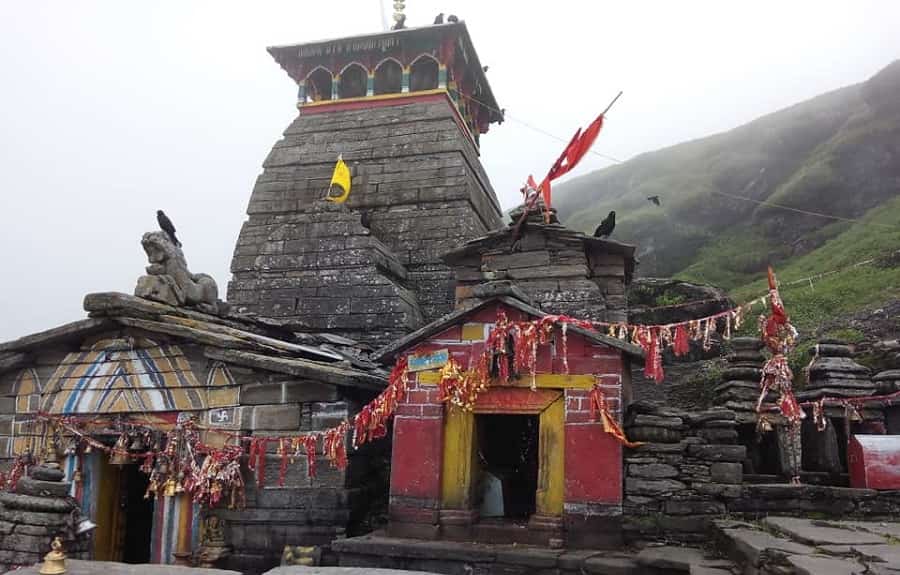 Quick Facts
Location – 73 km from Chopta  
Dedicated to – Lord Shiva
Altitude – 3,680 metres above sea level
Built in – 5,000 years old
Opened on – 10th May 2019
Closing on – The day after Diwali
History of Tungnath:
The legend of Tungnath dates back to the era of Pandavas when following the advice of Vyas rishi they had gone on a lookout for lord Shiva to ask him for forgiveness over killing their kin in the Mahabharata War. They established temples everywhere they went which has now been recognised as the Panch Kedar Yatra and consists of temples of Tungnath, Rudranath, Madhyamaheshwar, Kedarnath and Kalpeshwar Mahadev. This is where the lord's hands or bahu had fallen after he had attempted an escape from the Pandavas by converting himself in the form of a bull. According to other legends and tales it is said that lord Ram had performed deep meditation in a location close to the temple of Tungnath near Chandrashila Peak. Ravana, who was also an avid devotee of Lord Shiva is said to have meditated on the Ravan Shila to Lord Shiva which can still be visited since it is located at a distance of just 1 km from the peak.
About Tungnath:
The actual date of construction of this temple is not yet known and is believed to be 5,000 years old during the Ramayana era. It is built in a simple and humble Hindu architecture style and design and no elaborate construction is done. It especially seems a massive turnout of devotees from all over the world during the auspicious time of Maha Shivratri. It kind of looks similar to the structure of Kedarnath and makes for the perfect peaceful getaway with a hint of spirituality amidst the stunningly mesmerising natural beauty of Chamoli. The magnificence of this place is unparalleled and a great way to spend a holiday seeped in deep devotion.
How to Reach:
By Air – The closest airport for Tungnath is situated in Sahastradhara helipad in Dehradun that caters to a number of flights from various parts of India. From here one can opt for a rented car or taxi service that will drop you off to Dehradun. From the final road head, you can hire a pony or palki service to complete your journey to the temple.
By Road – This is probably one of the most preferred and cost-effective way of travelling to tungnath. Private and state-run buses ply on a regular basis to Chopta from various parts of the state. From Delhi, Tungnath is located at a distance of more than 400 kms and the remaining 3.5 km is completed on foot and it is a fairly easy trek which can be completed comfortably if you take small breaks in regular intervals and can be done in a duration of around 2 to 3 hours.
By Rail – The nearest railway station for Tungnath is situated in Haridwar which is located at a distance of around 225 km from Chopta. Taxi, cab and bus services are all very widely available from outside of the railway station. The road leading up to Tungnath is the Kund – Gopeshwar road. Haridwar station caters to a wide range of trains from various different parts of the country and should be choses as an option if you are travelling from far and have time.
Weather and Climate Information:
Winter (November – March) – The region remains covered in snow during this time of the year where the temperature averages from -8 to 10-degree Celsius. people choose to go on winter treks and Himalayan camping to experience the real thrill of nature. It can also be done with much ease since the terrain here is very easy to walk on and comfortable to cover.
Spring / Summer (April – May) – The season sees a gradual rise in the temperature from 2 to 22 degree Celsius. The atmosphere clears and the weather remain very pleasant making it perfect for travelling with your family. It is also the perfect time to trek up to Chandrashila peak. The skies are clear and it is also the safest time to go for Tungnath darshan. this is also the time when the gates of temple open along with the starting of char dham yatra.
Monsoon (July – August) – The temperature dips during these months and ranges between 4 to 20 degree Celsius. the entire region experiences unexpected heavy rainfall and thunder showers. Travelling is not recommended this time around since the entire place is susceptible to mud and landslides and even probable flooding. Do not plan any trip for the said months and be safe.
Autumn (September – October) – The weather and temperature remains very cool and chilly. Ranging from 1 to 15 degree Celsius this is another one of the ideal times to go on a trekking adventure to Chandrashila peak. Remember to bundle up on good quality of woollen clothing.
Best Time to Visit – If you wish to go for Darshan and some nearby sightseeing expeditions then you must visit during the months of April to May and from September to October. This is a very pleasant time of the year where a lot of people make their way to the temple for completing their Darshan of Lord Tungnath.