Gaumukh (literally meaning cow's snout) glacier trek takes you on the journey of a lifetime through some of the most panoramic beauty of the expansive and surreal Himalayan landscape. Where on one hand Uttarakhand treks are known for its pristine lush green tracks on the other hand the Gaumukh trek paints an entirely different picture. Although the way to the glacier is very green and dotted with colorful high altitude flowers the destination is surrounded by grey landscape, rocky hills and a cold desert – like situation. People also undertake this journey as a way of experiencing spirituality since Ganga River is a highly sacred river in India and is worshipped throughout its entire course. However even if you are not a religious person and are only looking for an adventurous time of the Himalayas then undertaking this incredible and potentially life changing trekking journey to the source of Ganga River will be something that you will cherish for years to come.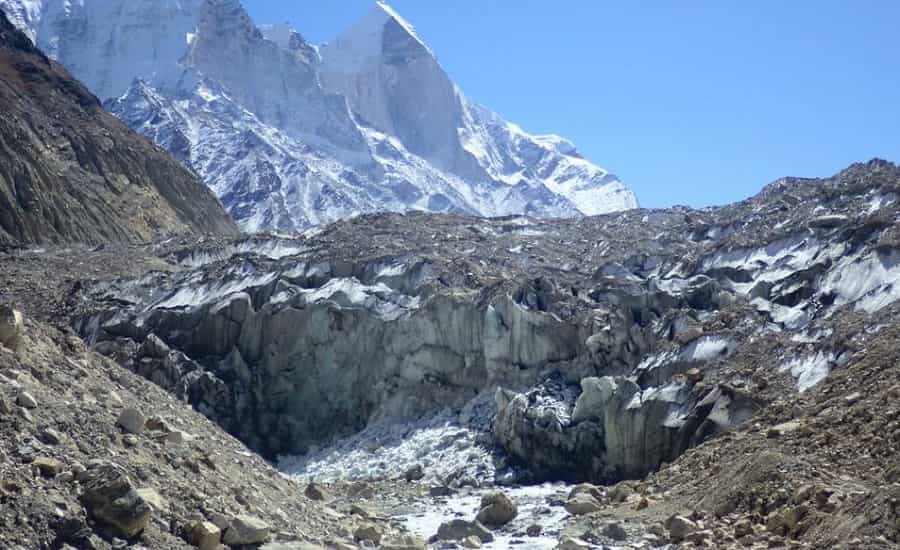 Here is a complete trek guide for Gaumukh:
Gaumukh Weather Guide:
There is a very limited window where one can go on this amazing trip of a lifetime. Given below are the seasons experienced in Gaumukh that will help you in planning your trip in a better manner:
Winter Season – November to February are the months when the region experiences a very cold and chilly weather season. The region gets completely covered in thick layer of snowfall which is also a recurring happening in winter time. The temperature drops below 0 and trekking is not possible during this time of the year.
Monsoon Season – As it is well know that one must not plan their vacation on the hills during the time of monsoon since the entire hilly region gets completely susceptible to unexpected landslides and heavy rainfall. The months of July to August marks the monsoon season in Gaumukh.
Autumn Season – September and October months mark the autumn season in Gaumukh which is an ideal time to go for some winter trekking experience on the Himalayas. Make sure to pack some good quality of warm woolen clothing since this is a very cold time experienced here.
Summer Season – May and June are not only the summer months in this region but are also the prime time for trekking tourism on the Garhwal Himalayas. The temperature rises a bit, enough to make trekking a comfortable and a very pleasant experience with wide open skies and favorable temperature.
Spring Season – The months of March and April are the spring season in the region when the temperature begins to rise and the snow begins melting. So this is not an appropriate time to go since the entire path will be very slippery and still freezing cold, especially at night.
Complete Route for Gaumukh trek:
Gangotri is a small and a very humble little pilgrimage town so finding the starting point of the trekking journey won't be a difficult job. However just to be sure, the trekking starts form around 100 metres from behind the temple of Gangotri. You will be following this particular route given below in detail:
Gangotri (9 km) – Chirbasa (5 km) – Bhojbasa (4 km) – Gaumukh
Gangotri to Chirbasa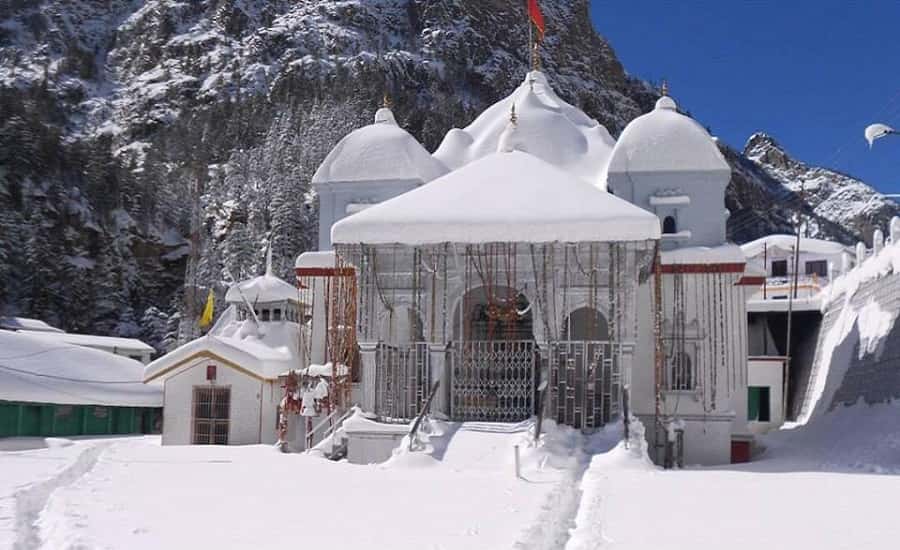 This entire sector of the trekking route is very well marked and you will no problem navigating your way through the trail. There is no tea stall, Dhabas or any kind of shops available in this entire 9 km of journey so be prepared with all type of energy boosting snacks along with a bottle of water which you could refill also. This will take 4 to 5 hours to cover and starting off as being easy the gradient will gradually increase but it won't be too difficult to handle.
Chirbasa to Bhojbasa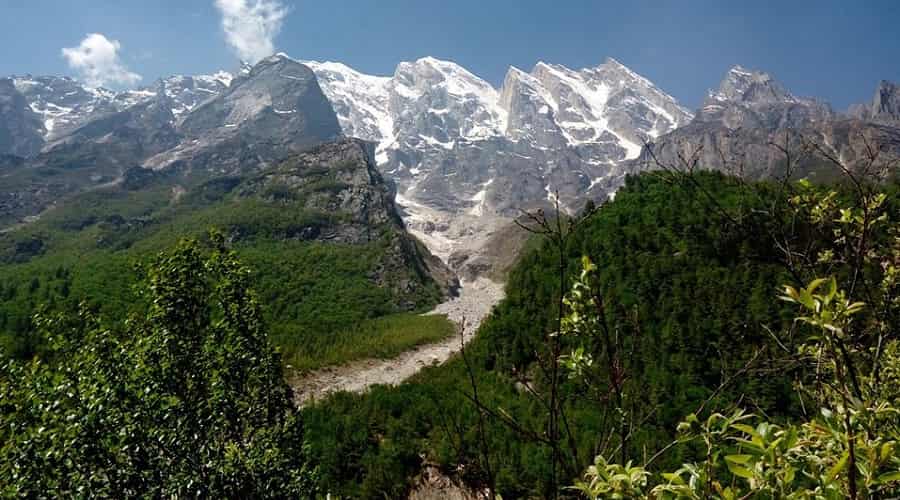 Chirbasa is the last place where you will be greeted with a large cover of vegetation and greenery after this there is a very dramatic change in topography of the region. After trekking for 3 km you will come across the mountain called 'Gila Pahar' which is a very landslide prone area. The trees vanish and you are greeted with barren expanse of land. Being located at a mere distance of only 5 km it can be covered in 2 to 3 hours. The trail will be quiet similar to that of Gangotri to Chirbasa and with each km you cover you will be leaving behind green patches of land.
Bhojbasa to Gaumukh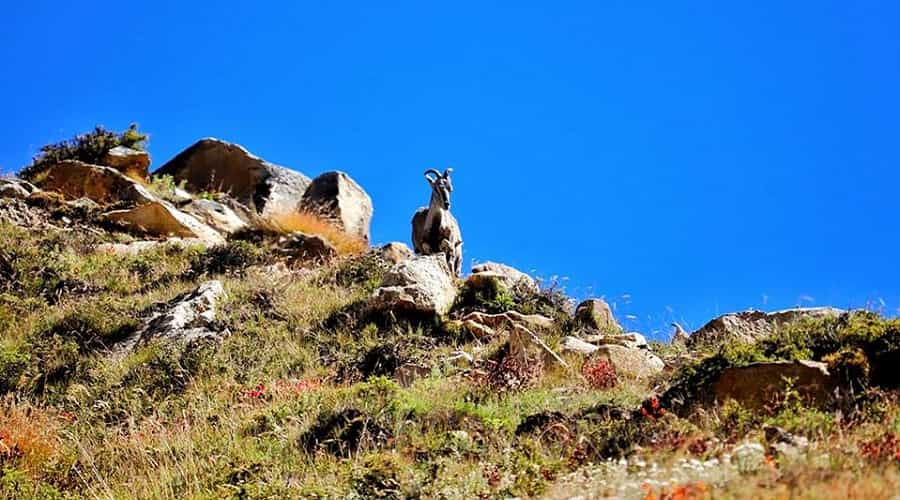 After crossing Bhojbasa the trek gets more difficult and challenging as you keep on proceeding further. From here the Glacier is at a distance of 4 km and you have 2 options from which you can choose. i.e. Either go ahead and complete your trek to Gaumukh the same day or start your Gaumukh glacier trek early in the morning and return to Bhojbasa the next day.
Gaumukh Trek Permit:
In order to trek up to Gaumukh a permit is required which can be obtained either from the district forest officer in Uttarkashi or Gangotri. You should know that these permits are capped at a limit of just 150 permits a day which are given on first come first serve basis. There are 2 ways through which you can obtain the permit:
Offline – You can obtain this important paperwork in Uttarkashi which will as it is fall on your way to Gangotri which is the starting point for this trekking route. The DFO office is situated right at the end of the road ahead from the bus stand here and being a government office it is open throughout the week. Getting a permit issued here is extremely easy, where you will just be needed to fill out a form with your name and address and attach it with a copy of a valid ID proof like Aadhaar Card, voter ID card, PAN card etc. and finally pay a fee of Rs.150/- per person.
In case for some reason you are not able to obtain this permit in Uttarkashi then you can get it from the next spot in Gangotri office. This is located just on the entrance of the holy town towards the left. The charges and the procedure followed will be the same as mentioned above. However the problem here is that the office remains functioning only for a limited period of time i.e. from 8 am to 10 am in the morning to 5 pm and 7 pm in the evening. But the good part is that the office remains open for all days of the week even on Sundays.
Online – This particular permit can also be easily obtained online. You can refer to the online application link for Gangotri National park permission and fill in all the required details. You will even have to upload all the required valid ID proofs online as per the requirement. Once your permit is approved you shall receive a confirmation e mail. You will be given the permit in the office if you bring the original documents to the office. You will have to take out a printout of the email and produce it in front of the DFO at whichever place you decide to take the permit.
How to Prepare for Gaumukh Trek:
Any sort of a good pair of sports shoes would be a good option for you. However if you are serious about it then you can invest in trekking shoes that even covers your ankles which will come in handy in your future trekking plans.
If trekking in the summer months then you must carry a light jacket along with you since it gets cold around this time of the year as well.
Carry good quality raincoats in your backpack as a safety measure as well since you never know when the weather will change its course and you may be confronted with heavy rainfall.
Remember to cover this trek with a group of people or at least you must be accompanied with 1 another person and make sure to inform your close contacts before going on this journey.
Pack and load up on a range of packaged food items like chocolates, energy bars, dry fruits etc. this will come in handy for providing an instant boost of energy during your trekking journey which will be much needed.
Remember to consult your trusted doctor prior to going for the trek to make sure you are fit and fine to cover this high altitude and remote trekking journey to the source of Ganga River. People suffering from asthma or cardio vascular related problems should not undertake this trip.
Practicing breathing exercises, Pranayam or even half an hour of exercise a month before going on this trip will prove to be extremely beneficial for your health. This will even make your journey very easy and smooth.
Start walking for some time every day to get your body used to the hard work that lies ahead. This will definitely be come in handy especially if you are going to Gaumukh for the first time.
Frequently Asked Questions for Gaumukh Trek:
Is the trekking permit cost different for foreign nationals?
The permit for foreign nationals is Rs.600 per person and Rs.150 per person for Indians.
What is the duration of the permit?
The validity of the trekking permit for Gaumukh is only for 2 days this means that if you start your trip on Monday then you will have to be back by Tuesday evening. However the duration of the trip can be extended if you decide to spend some time in Tapovan as well.
There is a check post present just at the beginning point where you will be asked to show the permit and produce all the plastic bags that you will be carrying. Everything like chips packets, polythene bags, chocolate covers etc. will be counted and you will be required to pay a certain amount there. The interesting fact about this is that in case you manage to bring back all this plastic then the extra amount you paid will be refund and if not the amount will be forfeited to the officials.
Where Can I Camp for the Night?
You can camp anywhere before Bhojbasa and even in Bhojbasa. However, camping is not permitted beyond this point.
How is the Mobile Connectivity in Gaumukh?
Gaumukh has no mobile connectivity available whatsoever. Till Gangotri you will get connections for Airtel and BSNL but this will all be gone once you commence your trek at least a km further on the route.
What should I do if I Experience AMS?
AMS or acute mountain sickness is when you start feeling feverish, get a headache, experience nausea, have difficulty breathing or get chest pains then you must not proceed further on to higher altitudes since it may prove to be not a good idea for your health condition. Proceed back to Gangotri where you will be given appropriate medical attention.
Can I Do this Trek at Night?
Night trekking is strictly prohibited in this region due to the presence of several wild animals in the area and also because the trail is very dark and you will get loose your way which can be life threatening as well.
What Time Should I Start the Trek?
The check post for Gaumukh behind the Gangotri temple opens up at 6 am in the morning so it is advised for you to be there by 5 am in order to reach you base camp in Chirbasa / Bhojbasa village on time. Due to the limited validity of your permit you will be expected to be back at the check post by next day evening.
What are Some Essentials that I Must Carry during the Trekking Journey?
Carry a sun block or a body lotion containing high SPF which will keep you protected from the harsh UV rays that will cause a lot of sun damage and tanning, sun glasses, trekking pole, cap / hat, flashlight (powerful) with extra set of batteries, insect repellant and an emergency medical kit.